Updates on Saturdays!

Saturday, September 23, 2006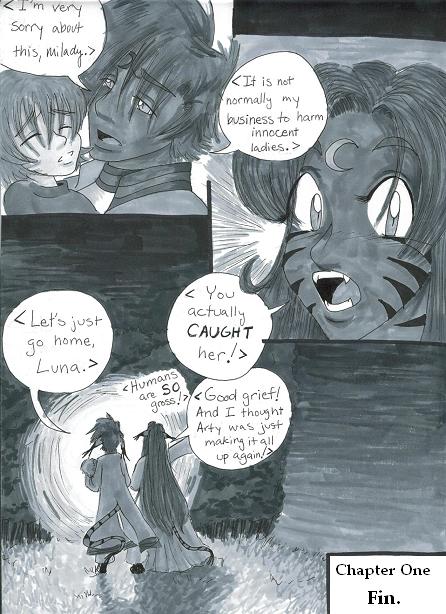 News!
10/7/07- Well, to judge by all the death threats I've received, you've probably noticed that Carnelian hasn't updated for the last two weeks. It's not my fault. Crescent's evil professors have chained her in the basement of her school and are forcing her to draw for crumbs of food and scrappy rags of clothing to wear. They say that they will keep her prisoner there until she can produce a drawing of such transcendent perfection that all who see it are instantly healed of all illnesses and enlightened. It might take her a few weeks, so be patient.

Meanwhile, we have received lovely fan-art from gystyu, Eckoii, and to_close_to_kira. Those names look suspiciously made-up to me; I have reason to suspect that the artists may be macaques. But hey, I'm no bigot. Some of my best friends are macaques. All that matters is that their talent is sufficient to pass our rigorous and painful quality standards for fan-art. Congratulations.

-Corsac


8/26/06- Well, I guess annoucing what's happening with me is better than the doldrums of waiting for someone to hop on.

I've moved into my dorm in college and classes start on Monday. It's been a long, hard, tedious process, but I'm here and ready to start.

I have been working on those long lost missing character pages, my webdesigner can attest to that for me and I have finally finished coloring in the final page of Chapter One of the official Carnelian storyline, which is a HUGE step in the right direction considering that post is a few weeks away. Party time, I declare!

The comic has been updating every Saturday for a grand total of six weeks now! Woohoo! I hope to keep this up during the college days, wish me luck with that!

And hopefully soon there will be new fanart for everyone to look at and if I really get around to it, perhaps even a gallery update of my own work! *oohs and ahhs*

So for anyone reading, pop over on the forum, say hi, however dull the forum maybe, it'll perk up eventually like the plant in the back corner that never gets watered enough.